France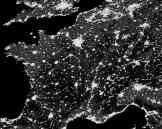 The Feelings
From the City of Light to its glorious countryside, nothing compares to the majestic beauty of France. Rich colours, spring fields, romance. People with a style all their own. A country that sweeps you off your feet and makes you forget about the world you used to know.
The Facts
France is a country four times the size of the UK but with the same population. Ergo - more space.

Her capital, Paris, is home to 2 million people although if you include the whole metropolitan area, nearly 10 million.

Her other main cities include Marseille on the Mediterranean coast with 800,000 people, Lyon in central west, Toulouse in the central east and Nice again on the Med, all with just under half a million people.

Let's divide France into some Regions and then give you a quick flavour of each.
Ile de France and Paris
We'll start in the centre. Not only is Paris a sheer delight to the tourist or wanderer, it is very much a capital city in that France's huge bureaucracy is centred there. Paris is a must to visit but it is very different from the rest of France. The area around the Paris conurbation is known as the Ile de France and is the smallest region. Despite it's proximity to the capital it has many unspoiled areas. As the former hunting ground for the nobility, it some wonderful chateau and gardens such as Chantilly and Fontainbleu.
The North
For most visitors to France from the UK, the North is an area to be rushed through on the way to somewhere else. The great plains between the ports and Paris are not the most interesting scenery in France but there are many parts of great beauty and interest. Reims (pronounced remms) is the centre of the Champaign producing area and the rose window of it's cathedral is quite magnificent.
Brittany
Most UK visitors will find that Brittany has a very similar coastline to Cornwall. It has a strong Celtic atmosphere with plenty of prehistoric remains. The fishing ports have inspired artists - especially Pont Aven made famous by Paul Gaugin. Cancale is famous for it's sea food but as in all of France, good food is everywhere to be found. Just look for the places that are crowded with locals.
Normandy
No other part of France was so badly damaged by the 1944 war as Normandy yet she remains ony of the most fascinating parts of France to explore. Well served by the channel ports at Le Harvre and Cherbourg or a few hours from Calais, or even less from Paris, Normandy is accessible yet full of character. Her food is rich with dairy produce, there are abundant supplies of sea food and this region is the centre of cider and calvados production. The old port in Honfleur is a sheer delight. People with an interest in World War 2 head for the Normandy landing beaches around Arromanches. The cliffs of Ertetat and Yport continue to inspire painters and photographers as they have for many years. Above all, Mont St Michael is the must-see - preferably out of season. See it first from a distance - approach it through the mists - let it gradually begin to dominate your view as you approach it across the marshes.
Alsace Lorraine
Alsace and Lorraine are actually two separate regions joined by a border in the Vosges mountains, but they are often referred to as one because they share a lot of history and were fought-over by Germany and France before being finally returned to France after the second world war. Both are known for their cuisine.
Alsace is the easternmost region of France. It is only 50km wide and about 190km long, making it one of France's smallest regions. Well known cities include Strasbourg, picturesque Colmar and industrial Mulhouse. This is an extremely attractive region with its vineyards, mountains and villages, but it is also France's third industrial region with a lot of industry concentrated around Strasbourg and Mulhouse. Alsace has more Michelin restaurant stars than any other French region, and produces celebrated white wines and half of France's beer.
Lorraine borders Germany, Belgium and Luxembourg with it's capital at Metz where there is an impressive Gothic cathedral. Nancy is well known for its Art Nouveau architecture and is one of France's most refined cities. Lorraine has the famous Moselle wines, quiche, tarts and souffles.
The Loire
The Loire is synonymous with the great chateau that follow the river. If you have seen the great chateau of Chambord rising from the early morning mists - as we have - you will never forget it. The Loire meanders slowly, wide and shallow. The river Loir to it's north is probably more attractive and you can enjoy the sleepy villages and fine towns as it winds through gentle woodlands. If you have a taste for the unusual, go to Briare and marvel at Gustave Eiffel's spectacular Pont Canal - a fine iron aqueduct that takes the canal over the river. The largest aqueduct in the world and hardly anyone knows about it.
Burgundy
One of the largest regions, in the centre of France, Burgundy is renowned for it's fine wines and it's unspoiled corners. The so called wine route runs south from Dijon to Beaune, whose 15th century Hotel Dieu has a fantastic mosaic roof and is well worth exploring. Noyers is a well preserved example of a medieval village. Solutre-Pouillly is next to the tall spectacular Roche de Solutre, a spectacular rocky escarpment that reward those who take the easy climb with great views.
Franche-Comte
Off to the extreme east, this region includes the dramatic Jura mountains. A real curiosity are the Royal Saltworks at Salins Les Bains - but France being France, expect them to be open when they want to open them, not when you want them to!
The Atlantic Coast
This vast area includes virtually all the coastline from Brittany to Spain. It is very varied, from the salt marshes and ports of the coast, to famous wine villages and pine forests. The region is justly famous for it's sea food - especially oysters and mussles. Although the names of some of the villages around Bordeau are known the world over for their wines, they still remain largely unspoiled and un-crowded. The Marais Poitevin with Coulon as it's centre is a mysterious area of canals and salt marshes whilst nearby La Rochelle is a thriving but charming port.
Berry & Limousin
"Where" we hear you say. In the very centre of France, these two provinces are deeply rural. This is France as she was many years ago - away from tourists and the big cities. This is a region that needs time to explore - perhaps a place to settle down to enjoy life at the pace we were designed for.
The Auvergne
An area of striking contrasts with rich pastures in the south and the mountainous Massif Central in the north. In the centre is the strange Le Puy where the chapel of St Michael perches on the top of a steep volcanic dome. There are many unspoiled towns and villages such as Salers and plenty of medieval chateau, some also perched on volcanic outcrops.
The Rhone Vally
A narrow corridor between the alps, it is worth driving up the valley sides to some of the higher places. Full of places of interest such as Palais Ideal in Hauterives and the dramatic village of Mirabel.
The Alps
Clean air, stunning views, hidden lakes and good skiing mark out this large area which seems all the larger because the mountain mean that you can't hurtle around. Places of interest abound - such as Pont-en Royans which clings to the mountain and the magnificent viewpoint at Beb De Margain.
Perigord & Quercy
Probably the other "where?" region, it off the beaten track and a area that time has passed by. Almost every era of history has left it's mark and some of the villages are rated as the finest in all of France. Again, this area needs to be seen at a slow pace but it is a treasure house of all that is best in France.
Languedoc
Down in the south, at the bottom of the Massif Central, this is a land of fewer villages but several fortified ones amid spectacular scenery. The Cevennes is one of the emptiest areas of France and is full of wildlife.
The Pyrenees
This massive wall of mountains is the border between France and Spain - two countries so very different thanks to the influence of the mountains. This is Basque country - a race who transcend the national borders. For a relatively small region, there are many places of interest to be explored.
Provence & Cote D'Azure
Marseille, despite being the second largest city by population is only now becoming trendy because of the fast rail link to Paris. It's an enormously interesting place. St Trop, Nice, Monaco and Cannes keep the sun-seekers away from most of the rest of this area and from it's many hidden delights. The nearby Camargue has a haunting beauty for those who take the time to absorb it. Aix is a lively town with perhaps just a few too many tourists in the high season.
Corsica
180 Km off the mainland of France is the little known (in the UK anyway) island of Corsica. Rugged mountains, dramatic gorges and sandy beaches abound. Very different from mainland France, Corsica needs you to be a little braver to appreciate what she has to offer.
It is impossible to do justice to France in just a few lines. She is not perfect - the bureaucracy is terrible and it takes ages to get anything done - by UK or US standards. But, that aside, France is a country that knows and provides all of that which is best in life - and provides it in abundance.

Serendipity of the Alphabet